A few days ago, KTFGR4AE9 and KTQGR4AEE-H two DDR4 server dedicated memory models owned by Kimtigo passed the Advanced Validation Labs (AVL) certification, verifying that these two products are compatible with Intel CPUs and mainboards [Intel® 3rd Gen Intel® Xeon® Scalable Processors Ice Lake-SP (ICX-SP) and Cooper Lake (CPX-SP)].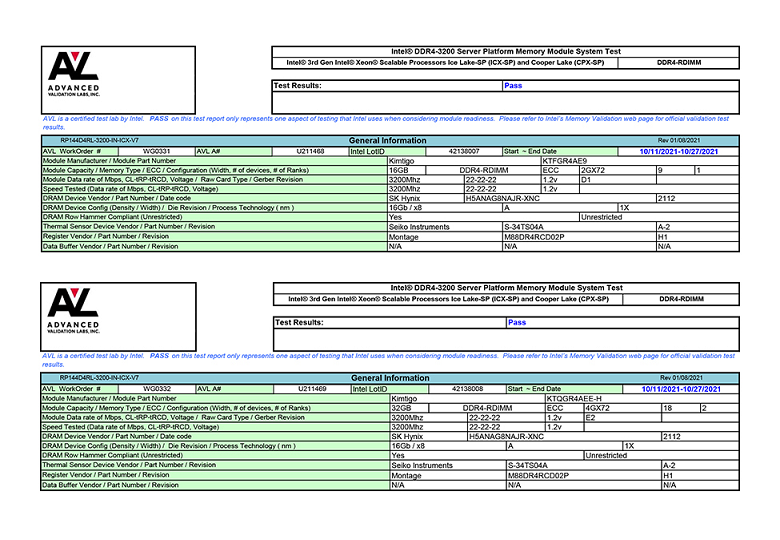 (Test results from the American AVL laboratory for Kimtigo products)
According to information, the products that Kimtigo has certified are its server dedicated memory KTFGR4AE9 with the capacity of 16GB and KTQGR4AEE-H with the capacity of 32GB .As the standard model of Kimtigo memory product line, both products are produced in strict accordance with JEDEC standards, equipped with original grade 3200MHz DRAM particles, with 16GB and 32GB storage capacities respectively, which can meet the capacity requirements of reading and storage for different users.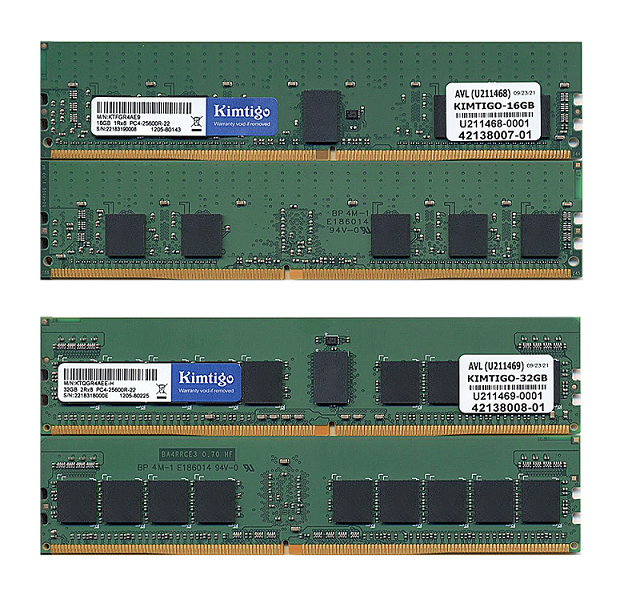 (KimtigoKTFGR4AE9 and KTQGR4AEE-H Product Images)
In addition, KTFGR4AE9 、KTQGR4AEE-H using one or two ECC chips design which empower the products with stronger error correction capability. In this way, easing the burden of system error correction together with making the most of DRAM 's high reading and writing efficiency mechanism, make reading and writing more stable ;Meanwhile, using REG chips stabilizes the command and address signal, which ensures the stability and reliability during operation, and will achieve better performance of memory reading and writing data. The working temperature of KTFGR4AE9KTQGR4AEE-H is 0~95℃, Wider and more stable application, use 1.2V low voltage working mode, which can further reduce power consumption.
According to this test report, the samples of KTFGR4AE9 DDR4 RDIMM and KTQGR4AEE-H DDR4 RDIMM provided by Kimtigo to AVL Laboratories both passed the rigorous tests.
It is also understood that AVL is a third party professional institutions for testing, certification of memory products , together with many major manufacturers to establish a joint mechanism, mainly for the world's major foundry and motherboard manufacturers provides testing and certification-related technical services, is regarded as the authority of memory testing.
While realizing independent development and testing, Kimtigo has been devoting to passing the certification test of third-party institutions, and by passing the certification of authoritative institutions, Kimtigo shows us the excellent quality of Chinese storage products.