DRAMeXchange :
Weekly Research :
【Performance Test】
---
【Performance Test】
DRAMeXchange 2011 SSD Performance Test
Published
2011-03-31 (GMT+8)
The development of SSD and testing goals
Due to the decreasing price and diversified application of SSD, the consumptive market increases greatly and enterprise clients grow stably, leading to the annual
rise of shipment.

DRAMeXchange specializes in the accurate test and the comprehensive comparison between mainstream and advanced SSD products in the market, which will fully reflect the SSD performance and help purchasers have a better understanding about the latest SSD transfer rate and performance.
Project Benefits
Introduce main SSD makers to raise product sales
Promote brand exposure
Confirm product performance by DRAMeXchange expertise
Consolidate the maker's position and competitive edge in memory market
Participants of 2010 New Generation SSD Performance Test
ADATA
Micron/Crucial
Kingspec
Apacer
Mach Xtreme Technology
Transcend Information
Carry/Gingle
Richmax / SuperSSpeed
Solidata
Corsair
Kingston Technology
HugeTech(Asax)
G.Skill
PQI
Kingfast
Intel
OCZ Technology Group
Silicon Power
RIDATA
Patriot Memory
Runcore
Kreton
Samsung Electronics
Walton Chaintech
2010 New Generation SSD Performance Test
Product Evaluation
Evaluation type
NAND Flash applied in SSD is divided into two types of expensive and effective-writing SLC and cheap and effective-reading MLC
Based on price, capacity and efficiency, it is divided into two types of 60GB (consumption type) and 120GB (enterprising type)
Content

The comparison chart of four testing scores
A. HD Tune Pro- test data rate
B. CrystalDiskMark- test writing & reading rate
C. Iometer-test I/O performance
D. Disk Utility Programme-Linux testing platform
The score comparison of product classification
The specification list of products
The description of evaluation articles
Project Presentation
Single Product Introduction
Picture and specification/performance introduction of each SSD product
Promote brand image and product awareness
Testing Elements
4 testing items classified by price and performance
SSD Performance test
About 30 makers involved in the test
Completed by the end of April in 2011
Special comment of DRAMeXchange analyst
Testing results on Chinese/English websites for globalization
Testing items
Major Items:Comprehensive scores tested by Disc testing software
transfer rate
access time
boot time
copy large and small files
insert large and small files
Additional Items
cost/performance ratio
Warranty
Temp
industrial design(ID)
Testing Platform / Software
Specification of Testing Platform
Motherboard:GIGABYTE P67
CPU:Intel Core i5 2400 quad-core 3.16GHz LGA
Memory:DDR 3 Size 1GB*2
Operating System:Microsoft Windows 7 / Ubuntu Linux
Testing Software
HD Tune Pro
CrystalDiskMark
Iometer
Disc utility program (Linux Platform)
DRAMeXchange Forum Promotion
SSD testing forum will be opened up for opinion communication, product publicity and news release
Email Promotion
Specific target group - members of DRAMeXchange
Press Release
SSD testing press will be released for media exposure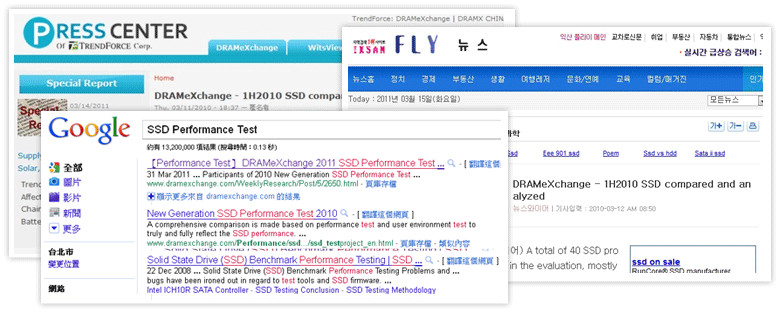 2011 SSD Performance Test-Test Project

About DRAMeXchange
DRAMeXchange is a global primary provider of future intelligences, in-depth analysis reports and advisory services on DRAM and Flash memory industry with coverage including current business, spot trading prices, and market trends, capital spending and wafer capacity trends, the impact of DRAM/flash memory products on the market, and other relevant PC industry information.
© DRAMeXchange ® Tech.Inc. All rights reserved.