【 The Market Trend of SSD 】
With the falling price of NAND FLASH and technology improvement of Flash Controller IC, SSD product becomes more mature, and is used in wider range of applications. In addition, the favorable price and low cost are welcomed by consumer market and professional field, making SSD shipment increase year by year.
Because of the flood in Thailand, the shares of SSD increases in the memory spot market, and the launch of Ultrabook also contributes to SSD demand, making many manufacturers invest in SSD production.
【 Testing Goals and Benefits 】
‧DRAMeXchange provides the accurate test and makes the comprehensive comparison between mainstream and advanced SSD products in the market, which will fully reflect SSD performance and transfer rat
‧SSD vendors participating in the test will increase brand exposure and promote product sales
‧DRAMeXchange specializes in evaluating the product performance in order to strengthen the maker's market position and competitive edge in memory market
Participants of 2011 SSD Performance Test
ADATA
Kingfast
Netcom
Richmax/SUPERSSPEED
Apacer
Kingston
OCZ
SOLIDATA
BIWIN
Mach Xtreme
Patriot
Strontium
G.Skill
Micron/Crucial
Phison
Transcend
Intel
Netac
Plextor
Wintec

【 2011 SSD Performance Test 】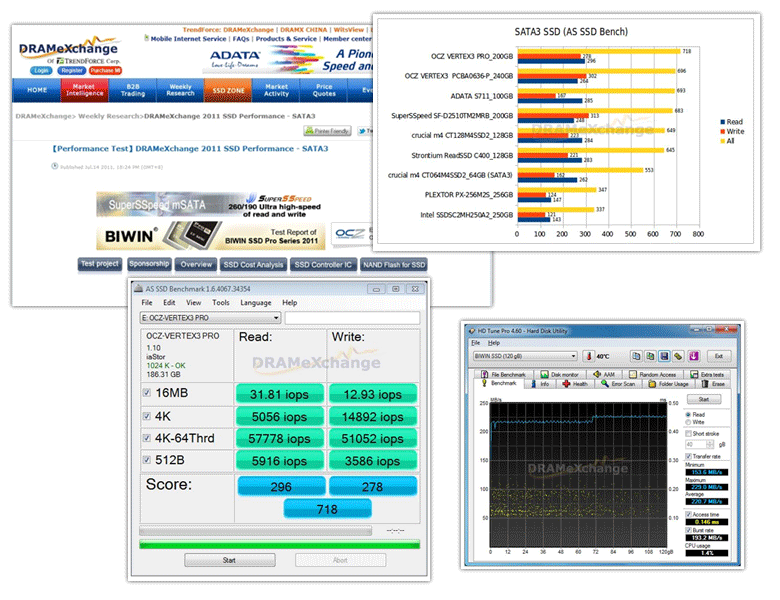 【 Product Evaluation 】
Evaluation Type
‧Based on efficiency, SSD product is categorized into SATA2 and SATA3, both of which are also divided into two groups by means of mainstream capacity

‧The performance comparison among four tested softwares
A. AS SSD –test comprehensive performance
B. HD Tune Pro - test transfer rate
C. Iometer - test I/O efficiency
D. AIDA 64 - test reading speed
‧The performance comparison based on product classification
‧The specification list of products from various suppliers
‧The evaluation articles
【 Project Presentation 】
Product Introduction
‧Offer the picture and specification/performance introduction of SSD product from various suppliers
‧Improve brand image and product awareness
Testing Content
‧Test 4 items based on different performances and capacities
‧SSD Performance test
‧Testing results will be released on Chinese/English websites for global dealers
【 Testing Items 】
Major Items:Comprehensive score tested by Disc testing software
‧transfer rate
‧access time
‧boot time
‧copy large and small files
‧insert large and small files
Additional Item
‧cost/performance ratio
【 Testing Platform / Software 】
Specification of Testing Platform
‧Motherboard:GIGABYTE P67A-UD3R-B3
‧CPU:Intel Core i5 2400, 6MB Cache, 3.10GHz FSB
‧Memory:Kingston HyperX DDR3 1666MHz 2GB*2
‧Operating System:Microsoft Windows 7 Ultimate SP1
Testing Software
‧AS SSD Benchmark v1.6.4237.30508
‧HDTunePro v5.0
‧Iometer 2008.06.28 by Intel Corporation
‧AIDA64 Ultimate V2.20.1800 (cost/performance ratio)
【 SSD Evaluation Promotion —The Banner in Homepage 】
Flash news and banner will be placed on DRAMeXchange homepage for SSD evaluation promotion


【 SSD ZONE 】
SSD ZONE focuses on the information about SSD news, opinion communication, product publicity and press release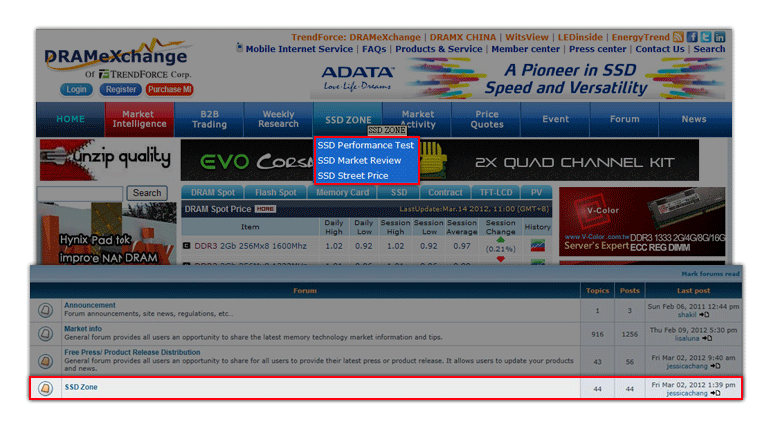 【 Press Release 】
SSD testing press will be released for media exposure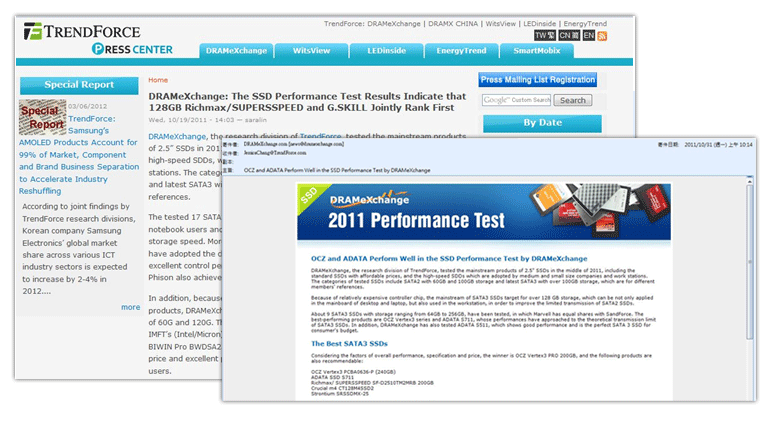 【 2012 SSD Performance Test –Evaluation Project 】